August 25th. 2017 - New J Young Release "She's A Thrilla" (Featuring Seven)
Happy New Music Friday!!!!!!!!
Today is the day the brand new single from J. Young (Feat. Seven) launches in North America!!!!!
If you loved the song "OXYGEN", we can't wait for you to hear "SHE'S A THRILLA"!!!!!
Adam H. and Team brought that old school back, and paid tribute to Michael Jackson & Legendary Producer Quincy Jones!
A LOT of love was put into this song and we are very excited for you to hear it!
The song is officially available on all Platforms, SPOTIFY, APPLE MUSIC, GOOGLE PLAY, etc, and you can easily listen to our song by clicking the link below... it will instantly take you to your favorite streaming service!
July 1st, 2017 - Global Party Starters (Featuring Elise Estrada) Officially Hits Radio
Congratulations to the GLOBAL PARTY STARTERS Feat. ELISE ESTRADA for their Official Radio Launch in Canada! The "Tonight" single featuring hit superstar, Elise Estrada has officially hit the airwaves, with early support from the Rogers Radio Group Hit Radio Stations, KISS RADIO Toronto, KISS RADIO Vancouver, and KISS RADIO Ottawa!
Produced by ADAM H, the GPS team co-wrote the song with Adam H. and Don Wolf, and it was mixed by Grammy Award Winner, Orlando Calzada, and Mastered in NYC by Larry Lachmann! Massive thank you to the entire team at XOXO for their incredible efforts!
Stay Tuned for more exciting news from the GLOBAL PARTY STARTERS!!!
Find it on i-Tunes: "TONIGHT" - (Featuring Elise Estrada)
May 13th, 2017 - Adam H Produced, GLOBAL PARTY STARTERS Win TELUS Storyhive Award!!!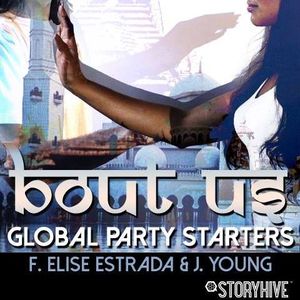 Congratulations to the Global Party Starters for winning a TELUS Storyhive Award for their Adam H. Produced single "'BOUT US" which features XOXO/eOne Recording Artists ELISE ESTRADA and J. YOUNG!
The EDM/Pop influenced deejay crew GLOBAL PARTY STARTERS have teamed up with Adam H., Don Wolf and Team XOXO for a three single deal to be launched in North America via XOXO and Entertainment One (eOne Music).
The deejay trio are now in Toronto to headline the DESIFEST Concert, and can be seen performing live on various TV Stations this week in support of their concert date!
Congratulations GPS!!!